The Ultimate List of 200 Wedding Favors
By

Retno Dwinika
Before your big day, you're probably wondering what kind of wedding favours to give away on your happiest day. For that reason, I made an enormous list of wedding favours that you can consider on the most important day in your life.
1 USB Stick, with the link to the photos
Photo by: Happy Topper Store
Bring your USB stick favor to the next level! Everyone will always curious about the wedding result of the wedding photos. On the stick you'll find a dropbox link, where eventually all the wedding photos will be uploaded. Combine it with little thank you card that contains the date of your photo upload deadline. Brilliant!
2 Hangover Relief Kits
Photo by: Personalized favours
You want to make sure that your guests can survive the day after 'the big day'!
3 Bubble Blowers
Photo by: La Cotovie
If you dreamt about bubbles between your flower shower. Give it it your guests and place a little thank note! It's also very cute as a wedding favor.
4 Lottery Tickets
Photo by: Unknown
Maybe they'll hit that jackpot. Who knows!
5 Pinecone Fire Starter
Photo by: Evermine
A Pinecone fire starter is a neat option for winter wedding favors. An easy DIY you can make in no time! A "Flame of Love" label like the one shown above makes these unique wedding favors perfect for your romantic day.
6 DIY Snow Globe
Photo by: Evermine
For the creative Bride and Groom. There are numerous DIY tutorials of snow globes online and easy to follow.
7 Charity
Photo by: Wildflower Favours
Make donation to a charity on behalf of your guests. It's a sweet heart touching gesture, which doesn't have to be expensive too.
8 Pressed Flowers
Photo by: Martha Stewart Weddings
Framed pressed flowers with your guest's name in calligraphy. You could set them as seating assignment. A one-of-a-kind place card and wedding favor two-in-one.
9 CBD Oil Wedding Favor (depending on your country!)
Photo by: Mineral Health
This, depends of the the laws in your country of course. The CBD oil has proven health benefits, which is always a beautiful gift.
10 Marijuana wedding favor (depending on your country!)
Photo by: Evermine
Yes! This wedding favor is possible in some countries or states. But like the CBD oil, you have to make sure that your area where you organize the wedding allows this.
11 Sparklers
Photo by: John Dolan Photography
Who doesn't love sparklers? other than use it to get an amazing grand entrance photo with all the guests and sparklers, you can give it to them as a favor too. Personalised with a note!
12 Mini Wooden Heart
Photo by: MantaMakesLtd via Etsy
Hand written or engraved, Wood is just cooler than a piece of paper.
13 S'mores Kit
Photo by: Wedding Lovely
For many, nostalgic. And you can make fun puns with them.
14 Custom Water Bottles
Photo by: My Wedding Favors
Customized water bottles to fit your wedding theme.
15 Notebook
Photo by: Wedding News Day
Knowing that everyone needs to make notes their whole life, a notebook is an amazingly perfect idea.. Get a bunch of notebooks and combine it with cute little note or pencil.
16 Mini Journals
Photo by: Scoutbooks
Gather a bunch of plain mini journals, and then use your handwriting skills (or get a personalized stamp) and get the cover as creative as you want.
17 Worry Dolls
Photo by: Eden Willow
"Worry dolls" are an important part of the Guatemalan culture, and are often gifted as emblems of peace and love.
18 Perler Decorated Candy
Photo by: Sarah Marie Studios
For the geeky couples, it just takes a little time to create them for all your guests.
19 wooden card holder
Photo by: Unknown
Be creative with your seating arrangement and make it as their favor in the same time! you can be creative by adding customized engraving of your wedding date on the wood.
20 Their name on a Crystal.
Photo by: Stephanie Messick Photography
If you have calligraphy skills, you can use these skills to write your guests' names on an Agate Crystal Slice.
21 Zippo Lighter
Photo by: The Feather Pen Shop
It just looks cooler than a plastic lighter.
22 Diy Mixed Drink Kits
Photo by: Something Turquoise
This funny to-do gift, will definitely surprise your guests.
23 Clothes Hanger
Photo by: Melodie Soul
You can do a lot with this, customized with name of the invitee, place a mini flower, or just leave it plain classy.
24 Matches
Photo by: Bradley James Photography
These matchboxes are not expensive, and you can DIY them too.
25 Book Index
Photo by: Sunshine and Ravioli
If you're crafty and want to have some fun, these are easy (and super cheap) to make yourself!
26 Personalized Lego
Photo by: The Brick Lad
Lego is always fun! Kids and even adults can't say no to this!
Wedding Favors in Jar
27 Sriracha Salt in a Jar
Photo by: Braised Anatomy
Get some jars and use your kitchen to make this Sriracha Salt. Amaze them with your chef skills!
28 Himalayan Salt in a Jar
Photo by: Emily Wren
With the added health benefits and it looks lovely in little jars!
29 Jelly in a Jar
Photo by: Unknown
If wedding planning takes over your life and you have no time to make jelly yourself, numerous companies will be able to help you out.
30 Candy in a Jar
Photo by: Anoiva Curiousa
Usually I got sweets in a bag at almost every wedding, why not place them into miniature jars?
31 Flavored Sugars in a Jar
Photo by: Sugar and Charm
To end your big day on a sweet note, offer guest a jar of flavor infused sugar. Dried citrus and fragrant flowers can offer the best hint of something special to these charming jars.
32 Jam in a Jar
Photo by: The Wedding of my dreams
As same as Jelly in a jar, we are lucky it's easy to find a supplier.
33 Honey in a Jar
Photo by: Sugar and Chic Shop via Etsy
Somehow everything in a jar looks more attractive. Definitely if there's something usable in it.
34 Mason Jar Sipper
Photo by: Happywedd
You can drink from this mason jar!
35 Apple Butter Favors
Photo by: Weddingomania
Give away your homemade apple butter favor in a little weck jar, with personalized note!
36 Hot Cocoa Jars in a jar
Photo by: Thegirlinspired
Absolutely a lovely favor to receive during the winter months.
37 Mini Confetti Jar
Photo by: Sugarandcloth
A little gold foil confetti dresses up these small glass favor jars making them a pretty addition to your table décor.
Alcoholic Favors
You can't go wrong with a good beverage as a gift.
38 Mini Limoncello Bottles
Photo by: Chavelli
39 Mini Champagne bottles
Photo by: Huffington Post
40 Mini bottle of baileys
Photo by: Baileys
41 Mini bottle of vodka
Photo by: Skoodo via Etsy
42 Mini bottle of rum
Photo by: Skoodo via Etsy
43 Mini bottle of whiskey
Photo by: Stylemepretty
44 Mini bottles of tequila
Photo by: Huffington Post
45 Mini Wine Bottles
Photo by: Unknown
Plants/Growables
46 Tulip Bulbs
Photo by: Intimate Weddings
Anything that can grow is fun to receive!
47 Potted Plants
Photo by: Unknown
Small plants are excellent decorative items that your guests would love to take home.
48 Succulents
Photo by: The Succulent Source
Who doesn't love succulents? Succulents can be combined with numerous of cool jars, to fit your wedding theme!
49 Herbs in a pot
Photo by: Gloria Mesa Photography
Everyday in the kitchen we use herbs. Like basil! They keep growing and it's fun to pick when they're ready, and they make a nice addition to a kitchen too.
50 Mini Bottled Roses
Photo by: Erin Lee
These bottled roses make not only a creative name sign, but also serve as a lovely wedding favor.
51 Mini Chili Plant
Photo by: Ikea
Mini plants are cute! A chilli plant can grow chilies while it's small. And they can grow indoor too.
52 Cacti Plants
Photo by: Megan Welker Photography
Tired of succulents? choose cacti! They'll fit in almost every wedding theme! Plus, they can live both indoors and outdoors.
53 Small Bags with Mini Roses
Photo by: Vintage Home Ca
Roses are beautiful, and they are a wonderful accessory for the House.
54 Baby Avocado Plant
Photo by: Unknown
Give away baby avocado plants! You can grow them from every used avocado. An unique gift for your guests' homes.
55 Seeds
Photo by: Catering Denver
Tomato plants, Basil plants or Chili plants? Give your guests something they can grow themselves!
Kitchen and Dining
56 Personalized Champagne Glass
Photo by: Unknown
Give your guests an own champagne glass, personalized with a note.
57 Cutlery
Photo by: IzzyandLoll
No one has too much cutlery! In a jute bag, it looks wonderful!
58 Tea in a Glass Tube
Photo by: Glamour
Put your favorite tea blend in a glass tube!
59 Mini Chocolate Fondue Set
Photo by: Raclette Corner
Give your guests something that's extremely fun and delicious to do!
60 Chopsticks
Photo by: Favorsandflowers
Lovely for asian themed weddings.
61 Olive Oils
Photo by: Lia Griffith
You'll definitely leave an amazing impression you infuse the olive oil, with a twig of thyme, or even some chili peppers!
62 Coasters
Photo by: VermontBranchCompany via Etsy
Let your guests bring home some of the rustic charm.
63 Tea in a Can
Photo by: Something Turquoise
Tea again? Yes, but a different presentation.
64 Cutting Boards
Photo by: Baked by Joanna
This favor stands out, you're giving your attendees something they will use for a long time!
65 Ice Cream Scoops
Photo by: Oli & Zo via notonthehighstreet.com
Everyone loves ice cream and they'll absolutely adore these ice cream scoop wedding favors.
66 Salad Dressings
Photo by: Unknown
The most important element on any salad, and you can make them yourself too. Sidenote: Vinaigrettes can last up to 3 months, where mayo or cream based dressings last between 1 and 2 months.
67 Hot Sauce
Photo by: Huffington Post
Give your attendees a hot sauce they can use for almost everything!
68 Shot Glasses
Photo by: Evermine
Everyone can use an extra shot glass.
69 Coffee Beans
Photo by: Something Turquoise
A sample of your favorite local roaster, who doesn't love fresh coffee beans?
70 Bottle of Wine
Photo by: Indigo Photography
You might have very delicious wine in your wedding, and the guest will be curious what kind of wine you have. "No questions and please take the joy with you!"
71 Tea Cups
Photo by: Larava Photography
A tea cup with sweets? Something for the kitchen will always be appreciated!
72 Beer Bottle Glasses
Photo by: Made It
With a glass bottle cutter, you can easily upcycle old (beer) bottles. The result is awesome! Fill them with your favorite candies, fruits or anything edible.
73 Mini Spice Bottles
Photo by: Trio Artisan Designs via Etsy
Always handy for the kitchen, your guests will be grateful!
74 Mini Recipe book
Photo by: Huffington Post
Got family recipes to share or your have own favorites? Share the love with your guests!
75 Pizza Cutter
Photo by: SG Wedding Favors
Give your guests a slice of love, or let them make their own slices.
76 Syrup in a Small Bottle
Photo by: Lev Kuperman Photography
Syrups in a bottle with a personalized card. Why not?
77 Lemonade Mix
Photo by: Millie Holloman Photography
With these "Main Squeeze" Lemonade Mix favors you can provide a way to make a thirst-quenching beverage for your guests when they're at home!
78 Bottle Openers
Photo by: Unknown
They're always useful for that cold beer in the fridge. Engraving is optional, you can use paper/cardboard tags as more affordable alternative to personalise.
79 Salt & Pepper Shakers
Photo by: Light In The Box
Fun and functional! Guests will enjoy using them again and again long after the wedding day is over.
80 Mojito DIY Kits
Photo by: Unknown
This will definitely not be thrown in the trash can. Let your guests make their own Mojitos at home!
81 Key Bottle Openers
Photo by: Personalized Favours
Another bottle opener! however, this key shaped bottle opener complements a vintage wedding theme.
82 Cookie Cutter
Photo by: Twenty Seven via notonthehighstreet.com
When your (creative) guests are making cookies, they can always make something to remind them of your most beautiful day.
83 Wine Stoppers
Photo by: My Wedding Favors
Who doesn't appreciate a wine stopper?
84 Espresso Cups
Photo by: Wedding Wish
A fun way to give a sample of your favorite roaster's coffee beans.
85 Small Container of Vanilla Extract
Photo by: Evermine
Amazing for the home pastry chefs.
86 Drink Stirrers
Photo by: Sandoval Studios
Simple but useful, you can design it as cute or as classy as you want.
87 Barbecue Sauce
Photo by: Kristi Wright Photography
Give your loved ones little barbecue sauces in cute bottles!
88 Wine Glass
Photo by: Beau Coup
Because no one has too much wine glasses. You can personalize and decorate them very for not that much money, or fill them with your favorite sweets. Printing text on the glass is optional.
89 Tea Infusers
Photo by: Wedding Collectibles
For the aromatic tea leaves.
Snacks/Consumables
90 Light Snacks
Photo by: Unknown
Personalize the jars with a simple sticker and a marker. Whatever you put in the jar is up to you!
91 Fruits
Photo by: Intimate Weddings
If you plan a garden wedding, fruits could be a nice idea as a wedding favor.
92 Sprinkles
Photo by: Something Turquoise
A funny playful way to give away sprinkles, and luckily not that expensive either.
93 Cotton Candy
Photo by: Woman Getting Married
Who will say no to this cute load of sweetness?
94 Popcorn in Mini Bags
Photo by: Luke and Cat Photography
A very affordable idea, and with the right message, very fun.
95 Canned Fruit in a Jar
Photo by: Jennifer Eileen Photography
Your guests might don't want to eat the fruits immediately, put the contents of the can in a (personalized) jar to make it look more presentable.
96 Lollipops
Photo by: Anges de Sucre
One of most easiest to be creative with, make your lollipop as cute as you want.
97 Ice Cream
Photo by: 100 Layer Cake
Because Ice cream as a departing gift, in a mason jar looks so cute!
98 Lightbulb Jelly Beans
Photo by: Anoiva Curiosa
Here's a bright idea, Fill a mini lightbulb with your favorite Jelly Beans. Tie them with name tags if you'd like to use them as place cards as well.
99 Chocolate Bar
Photo by: Quirky Gift Library via notonthehighstreet.com
Dark Chocolate, Milk Chocolate, White Chocolate? It's all up to you, but the bars are sure to be a hit for guests with a sweet tooth.
100 Cupcakes
Photo by: Unknown
Package mini cupcakes in secure boxes that show off the mouth-watering treats (without ruining their frosting).
101 Raw Popcorn Seeds
Photo by: Evermine
If you love cute ideas and a funny caption, why not this one?
102 Granola Bar
Photo by: Oh Sweet Basil
You can use your favorite brand, or make your own homemade Granola bars.
103 Candy from in a Machine
Photo by: Weddingstar
A funny way to store and give away candies.
104 Caramel Apples
Photo by: Unknown
It's an easy DIY, and they look amazingly cute!
105 Homemade Granola
Photo by: Evermine
"Love goes through the stomach", a perfect, tasty DIY gift for your loved ones. (Or you buy premade granola)
106 Bottle of Soda
Photo by: Angie Moon Photographer
You can customize them too.
107 Macarons
Photo by: Meg Smith Photography
More sweetness! you can make it simple with one macaron, or use multiple flavored macarons in customized box.
108 Donuts
Photo by: Evermine
You can not go wrong with a sweet donut.
109 Bride & Groom Cookies
Photo by: Cute Sweet Things
Something edible that represents you and your spouse.
110 Fortune Cookie
Photo by: Gourmet Wedding Gifts
Custom fortune cookies make unique and memorable wedding favors. Thank your guests with the note inside!
111 Marshmallows
Photo by: Unknown
A marshmallow with a personalized note is an affordable fun way to thank your guests.
112 Pies
Photo by: My Wedding Favors
Bonus points if the pies are home made!
113 Soft Pretzels
Photo by: Sweet Home Darlings via Etsy
A snack makes the ride home a little bit more enjoyable for your guests.
114 Chocolate
Photo by:Butlers Chocolate
We think you can't go wrong with chocolate either, bars, chocolate shells, all ideas with chocolate work somehow.
115 Tiny Pizzas
Photo by: Jo Photo
If you're looking for something a little different as a wedding favor then why not try mini pizzas?
116 Midnight Snack Kit
Photo by: Elyse Hall
A bottle of Coke and fries make the ultimate late-night snack and will help satisfy your guests after the big wedding.
117 Personalized Tic-Tacs
Photo by: SoSweetPartyShop via Etsy
Because you want your guests to leave the party with a fresh breath.
118 His/Her Favorite
Photo by: Something Turquoise
You might have different preferences. His favorite is maybe dark chocolate and Her favorite might be white chocolate. Give every guest both!
119 Potato Chips
Photo by: Oldani Photography
With proper packaging, this can be a very affordable and cute favor.
Wearables
120 Sunglasses
Photo by: Fab Mood
If you organized a destination wedding in a tropical destination, this might be gratefully used by your guests.
121 Towels
Photo by: https://loversoflove.com/
A favor that your guests will appreciate. You can make it more affordable if you make a personalized card on it instead of putting you and your spouse's name on the towel.
122 Shawls
Photo by: Unknown
Comfy, fashionable and many ways to make them useful.
123 Gloves
Photo by: Unknown
Highly useful in the winter! You can make it ridiculously easy by adding a "Thank you" tag on the
gloves!
124 Pashminas
Photo by: Greg Finck Photography
Make your guests stay cozy with the pashminas. Let them match your wedding theme or surprise them with unique patterns.
125 Sleep Masks
Photo by: Martha Stewart Weddings
A favor that can prove amazingly useful before the hangover of next day!
126 Hand Warmers
Photo by: Jennifer Fujikawa Photography
Ideal for an autumn or winter wedding.
127 Blankets
Photo by: Anna Roussos
Nothing will keep your guests warmer than a soft blanket! Custom order blankets to feature the date of your wedding, and your guests will think back to your special day every time they use them. How sweet is that?
128 Flip Flops
Photo by: Mike Arick Photography
Tired of wearing heels all day? Give your guests the relieving footwear!
129 Socks
Photo by: Sarah Rhodes
This winter wedding favor idea is too charming to pass up: a pair of warm socks with a tag that reads "Nobody's Getting' Cold Feet." So easy to DIY and so adorable. Your guests will love it!
Home/Decorations
130 Message in a Bottle
Photo by: Stampington & Company
Send your guest home with love message, or you and your partner's favorite poem. You can get as creative as you want with this by adding some sand and seashells for a nautical feel, or sprinkle some confetti just for fun.
131 Compass
Photo by: Lisa Berry Photography
Compasses always compliments a vintage themed wedding.
132 Pot Pourri
Photo by: Elli
Something to scent your guests' homes.
133 Horseshoe
Photo by: Unknown
Bless your guests and their homes with a lot of luck by giving them this favor, with a lovely "thank you" note of course.
134 Scent Sticks
Photo by: Alibaba
Because it's a lovely addition to anyone's home!
135 Hip Flasks
Photo by: Ali Express
A unforgettable gift for every gentleman attending your wedding.
136 Concrete Planters
Photo by: Wood Save
Combine your succulents or cactuses with a concrete planter, because it just looks cooler!
137 Candles
Photo by: Lulu Sugar via Etsy
A decorative (scent) candle will always be appreciated.
138 Used Books
Photo by: The Image is Found Photography
Books from a 2nd hand book shop, can be an incredibly cheap way to surprise your guests. Make sure to bring both Fiction and Non fiction books.
139 Calendar
Photo by: Amazon
You can find this easily in souvenir shops or online
140 Mini Globe Party Favor
Photo by: Amazon
For the travel loving bride and groom, these mini globe party favors make such a unique gift for wedding guests.
141 Iconic "Forever Rose"
Photo by: Unknown
Inspired by disney movie 'Beauty and the Beast'. Look at the beautiful story that this rose proved the pure love. Nice decoration for their house.
142 Dreamcatcher
Photo by: Gantes
Guarantee your guest good dreams, by giving them this dream catcher.
143 Heart Ring Dishes
Photo by: Alispots via Etsy
A cute way to thank your guests for attending. You might also use it to rest a tea bag on it.
144 Miniature Stags
Photo by: Martha Stewart Weddings
A cute way to thank your guests for attending. For a Fall wedding this would be perfect.
145 Instagram Coasters
Photo by: Just Noey
You can give coasters that represent your marriage. Use meaningful photos, not just face shots.
146 Teacup Candles
Photo by: Indecora
A second hand teacup perhaps? this is an amazing DIY idea, and luckily enough, not to difficult.
147 Mini Clock
Photo by: Wedding Day Colors
You can choose the style of the clock to match your wedding style, like this vintage one.
148 Pictures from the Photo Booth!
Photo by: Weddbook
Provide a photobooth services and let them take the photos home!
149 Tin Candles
Photo by: Unknown
You can personalize them too.
150 Wood magnets
Photo by: Davis Bridal
A "thank you" that will probably end up hanging at your guests' refrigerators.
151 Lighthouse Lanterns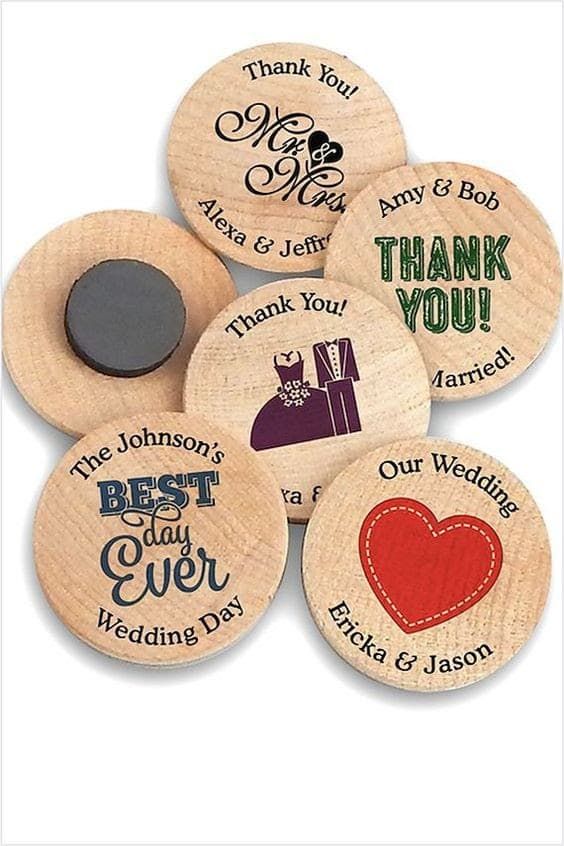 Photo by: Amazon
For a vintage wedding. Not just candle, some of them can be filled with sweets or your favorite granola.
152 Vintage Postcards
Photo by: W Scott Chester Photography
If your wedding is a destination wedding, postcards might be a perfect gift for your guests. Attendees can send them off back home to friends and family.
153 Photo Frame
Photo by: The Knot
Mini picture frame favors and wedding frames in various shapes and styles perfect for table decorations, gifts or the photos from the photo booth!
154 Plush Dolls
Photo by: DH Gate
Place it at every seat, this plush doll will make cute favor for the guests.
155 Mini Light Box
Photo by: Locomix
Customize your mini light box to match your wedding theme.
156 Flower Candle
Photo by: Ali Express
Candle wedding favors often are considered the most romantic, what if you try one with a beautiful flower shape?
157 Incense
A lovely addition to anyone's house, give them a sample of your favorite odour.
158 Beer Growler
Photo by: Amazon
With the right colors, it serves as a cool decoration for the house or garden.
159 Christmas Tree Ball
Photo by: Unknown
If Christmas is around the corner, why not give your guest something to hang in the christmas tree?
160 Small Painted Canvas Paintings
Photo by: Unknown
For the artistic Bride and Groom. If you're creative, you can make them yourself too.
Personal Care
161 Sunblock
Photo by: Unknown
Outdoor wedding on summer could be too harsh for the skin, your guest will appreciate this!
162 Mini Perfume bottles
Photo by: Anthropologie
Good fragrance is what people love, and leave an impression. Your guests' preference might be diverse, so, go for soft perfumes, so you're sure it's a safe choice.
163 Face mist
Photo by: Herbivore Botanicals
For your outdoor wedding, keep them cool with relaxing face mist. They would keep it after the wedding too.
164 Bath Bomb
Photo by: Camille Styles
Everyone love relaxing time, you can provide various essense and colors.
165 Massage Oil
Photo by: Evermine
Massage oils are available in various smells and relax the mind during a lovely massage.
166 Bug Spray
Photo by: Evermine
If you love DIY, you can definitely try this one. Pour the repellant into a cute spray bottle and it will repel mosquitos! (You can also go for natural Citronella variations instead of the toxic Deet based sprays.)
167 Nail Polish
Photo by: Growing Up Hui
This also works for bridal showers. It's a nice gift to receive as a lady.
168 Bath Salt
Photo by: Wear 4 Trend
You can customize the tube with so many colors that match your wedding therme
169 Crystal Stones
Photo by: Optical Amusements
Crystals and stones make beautiful decorations, and blend right in with other natural add-ins. Saturated jewel and gem tones contribute to show-stopping colorscapes, as do metallics and earthy neutrals.
170 Soaps
Photo by: Soap Savant via Etsy
Often with a delicious fragrance, you can't go wrong with soaps.
171 hand sanitizer
Photo by: Treasure Your Event via Etsy
Small, handy, and useful. They will keep it after the wedding.
172 Lip balm
Photo by: Unknown
You can provide a few different literary scented lip balms.
Handy Stuff
173 Koozies
Photo by: Ali Express
Ideally for a beach wedding, to keep your beer ice cold.
174 Reusable Water bottles
Photo by: Pop Sugar
But I recommend quitting plastic bottles altogether. The planet will thank you! 🙂
175 Keep Cup
Photo by: Keep Cup
There are reusable coffee cups too! Some coffee shops give you a sweet discount on your orders if you bring one.
176 Mini mirror
Photo by: Ali Express
One of "must have in bag" things that could be cute as a favor.
177 Keychain
Photo by: Twenty Seven
Since everyone carries keys on them out of necessity, a perfect wedding favor for you to give your guests are key chain favors.
178 Phone lens
Photo by: Unknown
This wedding favor is better to give after they filled your registration book, so they can use it for taking photos during the wedding too.
179 Polaroid photos
Photo by: Blush Love Mint
Are you planning to provide a polaroid camera? Prepare films, customized with you and your partners name.
180 Disposable Cameras
Photo by: The Camera Depot via Amazon
Let your guests having fun and making photos during the day!
181 Power Bank
Photo by: Where There is Love Shop via Etsy
Personalizable, and highly useful! Your guests will keep using it even after the wedding day!
182 CD with songs
Photo by: Evermine
Put your wedding playlist on a CD!
183 USB stick with songs
Photo by: Amazon
Did you ever found a beautiful song playlist in someone wedding and curious to asking? Don't let your guest feel the same. Put your wedding playlist in a USB stick and let them remember the vibes!
184 Cards wallet
Photo by: Unknown
Everyone need to bring cards anywhere they go. It would be nice if you combine this with a cute personalized thank you card, to keep things affordable.
185 Luggage Tags
Photo by: Escort Tags via Etsy
Handy during destination weddings.
186 Hand fan
Photo by: Mythe Barn Weddings
These are colorful, handmade fans keep guests cool during summertime ceremonies and also serve as the perfect photo booth prop.
187 Tote Bags
Photo by: Summer Street Photography
We mentioned that we don't like disposable plastics before. Giving away tote bags reduces the need for plastic bags.
188 Handkerchief
Photo by: Canpal
Happy tears are about to happen, handkerchief will help you with that.
189 Parasols
Photo by: Jose Villa Photography
Protect your guests from sunburn with a dainty umbrella parasol, a touch that brings a little bit of vintage to your ceremony.
190 Umbrella
Photo by: Connie Lyu
Perfect for any Rainy or Hot season as an answer to unpredictable weather.
191 Temporary Tattoo
Photo by: Nyk and Call
Do you know what makes a great photo booth snapshot? A group of your best friends, all wearing temporary tattoos of you and your love's faces.
192 Cigars
Photo by: Justine Bursoni
Hand-rolled cigars, wrapped with your personalized labels,
193 Tambourines
Photo by: Ashley Burns Photography
Mini tambourines make pretty keepsakes and they look cute too.
194 Crayons
Photo by: Buzz Feed
If your guest will come with their kids, this wedding favor will definitely make them happy.
195 Mini Sketchbooks
Photo by: Martha Stewart Weddings
Lots of creative friends? They'll be grateful!
196 Colored Pencils
Photo by: Tip Junkie
Kids will love this, and perhaps your most creative friends too.
197 Custom Pencil
Photo by: Camdeco via Etsy
A wooden engraved pencil, will always be usable somehow.
198 Custom Pen
Photo by: Mission Tie The Knot
Give your guests a comfy pen. So comfy, they will never borrow it to someone else.
199 Russian Dolls
Photo by: Etsy
A Pretty 'Vintage-chick' themed wedding favor
200 Playing cards
Photo by: Deck Ideas
You can also personalize the playing cards. Who doesn't love a set of cards at home?
Retno Dwinika
Retno Dwinika lives in Canggu, Bali. She is active as a wedding planner, blogger and Founder of Amora Bali Weddings. Retno is often seen working from Canggu's gorgeous cafes and co-working spaces. Between her routines, she always takes the time to enjoy Bali's romantic sunsets.